Join us starting April 11th, 2018 for our Wednesday Night 3-D Shoots!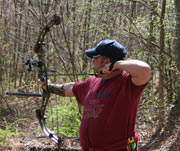 The public are invited to join us every Wednesday evening from April to the end of August for our popular 3D Archery Shoot.
Hours: 5:00 PM until dark
Entry Fee: $6.00
The course features life-like targets, and takes advantage of our varied terrain to provide realistic hunting conditions.
There's something for everyone - Experienced archers can stay sharp and hone their skills; while beginners will have the opportunity to learn from the experts.

Our friendly competition is designed to keep everyone "in the game". At the end of the night, scorecards are randomly paired and prize money is awarded to the highest and lowest aggregate scores.